A good start to the summer with a
live recording of The BeerEDU
Podcast! Thank you to Shoe Tree
Brewing Company in Carson City, NV
for being such gracious hosts!
The end of the 2018-2019 school year is upon us. As I sit down and write this, I have been off for almost a week. My kids finished up their school years (we are in different districts) and have since gone to California to stay with my parents for a few days, giving my wife and I some time to ourselves before she started her summer classes for her grad program.
While I had the greatest of intentions to get some things done, I must admit that I have fully taken advantage of the time to recuperate a little bit after what was perhaps the busiest school year that I have had in my 14-year career in education. I have enjoyed catching up on some shows on Hulu and Netflix, episodes of various podcasts, and been able to put almost 20 miles on my bike in the last two days alone. I even was able to record a podcast on location at Shoe Tree Brewing Company with my partner in crime, Ben Dickson, meeting with our guest, Rob Williams, to have some beers and have an amazing conversation about the great things happening in Rob's district in Southern & Central Nevada (watch for this to drop on Saturday, June 29, 2019, if you are reading this prior to then). The past few days has given me the opportunity to reflect on this past year and think about some things that I want to do in the upcoming school year, a little over two months away!
I mentioned that this past year was busy; that is certainly an understatement! I began the school year in a new school in a new city, working in a role that I had never done before while working on a degree program to become certified to work in my role as a special education teacher. As the sole breadwinner of the family while my wife is in school, I had to pick up some extra duties to make a little extra cash, so I worked a couple of hours a week as an after-school technology coach and taught two nights of adult education, teaching American government. I couldn't neglect my duties as Vice President of CUE-NV, so I carved out time to work with my board to put on several events throughout the school year. I attended and presented at several events, including the CapCUE Tech Fest, FallCUE, a couple of Google Summits, the Tulare County Tech Rodeo, and SpringCUE. And in between all of that, I submitted and earned my Google Certified Trainer endorsement, completed my Master's in Special Education, and have started working on a book (more on this momentarily), all while balancing my life at home with my wife and two kids and co-hosting two podcasts. While many will think that I am crazy, I thrive on a busy lifestyle and wouldn't have it any other way! But enough about how busy I've been, let's get to the reflection!
I would be lying if I told you I wasn't apprehensive going into the school year and teaching special education. While I wasn't nervous about working with students and meeting my new colleagues, I was nervous about the paperwork and other duties of the job. What I learned very quickly, however: I would rather write IEPs and check in with students than writing lesson plans, grade, and everything else that comes with general education! I feel that I got to connect with students on a more personal level, learning about their lives, their strengths, and their dreams, which was a lot harder to do as a general education teacher. Now don't get me wrong, special education is not all rainbows and unicorns, there were certainly frustrating days and students that were very hard to work with at times, and parents that were even harder to work with, but in the end, I am confident that I am making a difference in students' lives and look forward to improving as a special education teacher and continuing to inspire kids and their futures.
One of my favorite views of Reno a few months back. I can't believe that
something so beautiful is only a short drive or hike away!
I would also be lying if I said that on a personal level that this past year has been easy. As the only one bringing in a paycheck, there have certainly been some changes in our lifestyle. Stress levels have been higher at times as a result. Because of my full days at school, plus the extra time I have been putting in to make a little extra, I haven't been at home as much, taking a toll on my wife and children. On top of that, Mary's school schedule has her working all day, then several hours a night on her classes. Because of how busy we have both been, we haven't been able to enjoy our new home as much as we would like to, to the point that Mary isn't incredibly happy here. But the good news: the kids have settled in nicely to their schools and have made friends, Mary is over halfway done with her program, and as a speech pathologist, she will not have a problem getting a job anywhere that she wishes. At that point, we can start to experience the beauty of where we live (if we decide to stay, I hope so, I personally love it here!) and as I jokingly told a co-worker before school ended when he asked what we would do with two incomes, "We can buy name brand food at the grocery store again!"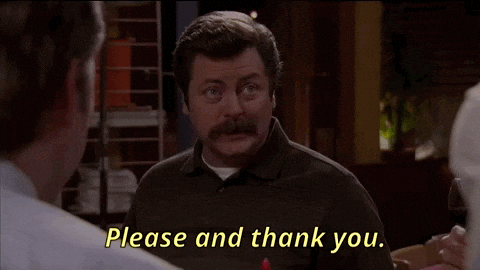 Every little bit helps, and Mary and I cannot be more grateful to you for your help!
And speaking of a change of lifestyle and the struggle to make ends meet at times, I owe it to my wife, Mary, to help her in reaching her goals while she completes her grad program. The American Speech-Language-Hearing Association, or ASHA, will be having their annual convention in Orlando, FL in November. It is a wonderful opportunity to further herself professionally and she deserves to go. However, between the conference registration, flight, hotel, etc., it is something that will be very tough for us to pull off financially. This is why Mary has set up a GoFundMe campaign to help cover some of her expenses. If you would consider making a small donation to her to help her get to Orlando, we would be forever in your debt. Please visit
https://www.gofundme.com/asha-convention-in-orlando
to make a donation! And please share this link out so that others may be able to help as well!
The last few days have also given me a chance to think about some things that I want to do this fall. While I will continue to co-teach World History with the same teacher this year, I am also going to be co-teaching Economics with him and another teacher. Economics was my favorite subject throughout college and I was really hoping to teach it when I got my first teaching job. However, it just wasn't in the cards and I have never had the opportunity to teach economics, until now! I will certainly need to brush up on the content to get up to speed, but I am already starting to think about some activities that will help make economics more interesting and applicable to students' real-life experiences, including a budget simulation using Google Sheets. But something that I really want to do with both classes is to create a "menu" of the different tools that we will use throughout the year. The menu will include the tool, a sample activity for students to complete, and examples of how we will use the tools throughout the year. To take it even further, I want to design the menu in a hyperdoc format and post it in Google Classroom as a material that students can refer back to if needed. Some of the tools that I intend to include, but not limited to, are Pear Deck, Quizizz, Quizlet, the GSuite tools, and Adobe Spark, just to name a few.
As the summer progresses, more reflection and recuperation is certainly on the docket, but so are a few other things. Ben and I will continue to record a few episodes of The BeerEDU Podcast, and we have some great guests lined up. We would love to have some more guests, so if you are interested, please visit bit.ly/beeredupodcast and fill out our guest form! My other podcast, Sons of Technology: The Podcast, is also going to continue to record and publish episodes, so be on the lookout for both of those. I also plan to write posts for this blog, perhaps not as frequently as I do during the school year, but I will write nonetheless. But I also plan to continue working on the book that I have started. Without going into extreme detail and giving away the entire premise of my book, it is essentially a memoir of the times I have taken risks in my life as a person and a professional and the impact that it has had on me as an educator. My goal is to inspire others to take risks in their lives and embrace the successes and failures that come with said risks. I hope to have a completed draft by the end of the summer and hope to have a publisher accept my proposal.
Excited to start this one!
And of course, summertime is learning time! Podcasts, scrolling through the Twitter feed, and a couple of events are on my agenda, as is doing some reading that is so hard to fit in during the summer. I have already completed Lead Like a Pirate by Shelley Burgess & Beth Houf, and I am nearly finished with Make Learning Magical by Tisha Richmond. My next book will be Be Real by Tara Martin, and I will definitely need to pick up a copy of the next in the #Ditchbook line, Don't Ditch That Tech by Matt Miller, Nate Ridgway, and Angelia Ridgway.
Hopefully, your summer, if it has started, has been relaxing and has given you time to reflect and you have started to think about some things that you want to do in the next school year.
Until next time...