Goodbye, 2017!
As 2017 comes to a close, I have been reflecting on what 2017 was and what I want 2018 to be. I wrote a post on January 2, 2017, that outlined three goals, not resolutions, that I wanted to meet by the end of the year. If I am going to be honest, I did not do a good job of achieving my goals, for various reasons. However, excuses aside and not accepted, I vow to achieve new goals for 2018 and make myself more accountable in attaining them.
One of my goals was to lose 50 pounds during 2017. I had vowed to attend weekly Weight Watchers meetings and begin to exercise more often. I did not achieve this goal; in fact, I actually gained weight. The biggest reason for my failure was that I set too lofty of a goal. I set an end goal, without steps for progress throughout the year. I also set myself up for failure by stating that I would attend my weekly meeting on Saturday mornings, a day where it is easy to skip the meeting because of work obligations (such as presenting at professional development, something that I did a lot of in 2017), wanting the extra sleep after a long, hard week, or using the excuse that there was too much hockey, baseball, and football on early on Saturday morning.
This year, it's going to be different! I still am going to set a goal of losing 50 pounds by the end of 2018. However, this time, I have made some significant changes to my goal. To start, after quitting my Weight Watchers meetings early on in 2017, I have already signed up to go back to them, this time on Wednesday evenings. It's a lot harder to skip a Wednesday night meeting or make up some excuse to "just go another time this week". I decided to go back prior to the Christmas holiday so I could start getting into healthier habits sooner and to minimize the damage during the holidays. After my first week, I lost 4.4 pounds, which included Christmas! That weight loss is not sustainable every week, but in order to get to my 50 pounds in 2018 goal, I want to lose five pounds per month until the goal is achieved. Technically, if I am able to do that for every month, I will lose 60 pounds or more next year, but they may be months where I don't meet the five-pound goal. For now, I intend to lose the weight without going crazy at the gym, but as I begin to lose and feel better, I will start to incorporate more activity into my routine (I started to lift with my students at school, but with the time off, I haven't been lifting).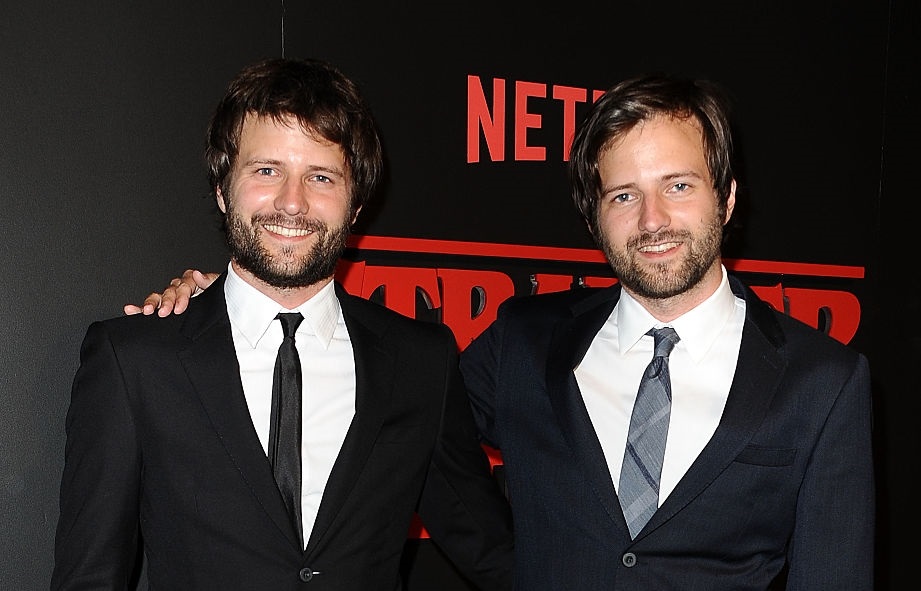 The Duffer Brother, creators, writers, directors, and producers of the hit
Netflix series Stranger Things have stated in several interviews how they
have written episodes of the series using Google Docs.

Image courtesy of http://strangerthings.wikia.com/wiki/Duffer_Brothers
I also had set a goal of starting to write a book. While I did not get the start on my book as I intended to, I did start to think of some ideas on what I want to go into the book and the format of how I want to write it. Essentially, my book is going to be a memoir of my life and experiences and a tribute to those that I have shaped my life as a man, husband, father, educator, and coach. When I think about writing a book, I think about the great authors before that toiled over a typewriter, pecking out their pages before binding them up and sending them off to a publisher. When I think about how I am going to write it, I'm going to take a page out of the Duffer Brothers' book (see what I did there? Expect a lot of puns and corny jokes in any book I eventually write!) and complete it using Google Docs!
My third goal that I had set for 2017 was to obtain a position as a dean or assistant principal. This was a goal that I had achieved... sort of. I will spare the details of everything, but in late February, I was appointed as a dean at a middle school and finished out the last 3 months of the school year. About a month and a half into the new school year, I realized that becoming an administrator at this juncture of my career was not the right choice and I requested to return back to the classroom, becoming a physical education teacher for the first time in my career. Hindsight is most definitely 20/20, but would I change the decision that I made if I could? I don't think so. I gained some valuable experience working as an administrator and learned to appreciate my profession even more than I had before. The timing just wasn't right but someday, I'll give it another shot.
For more information on the above, please see my previous posts titled
Priorities
and
Changes (For The Better)
.
So, besides weight loss and getting that start on my book, what else do I have planned to meet this year? I have two other goals, one of which is practically already met, and another that I cannot 100% reveal just yet.
I had a conversation with my wife one afternoon about the dozens of presentations I have made to educators over the past few years. I told her, much to her surprise, that of all of those presentations, none of them have been outside of the Las Vegas Valley. That being said, I told her that I wanted to expand my horizons a bit and start presenting in locales outside of my home city. As of today, I am lined up to present at the Tulare County Tech Rodeo in Visalia, CA on January 13, where I will be presenting Google Keep and Pear Deck, and the Inland Area CUE Tech Fair in Perris, CA on January 20 where I will be presenting the same. The following weekend, I will be presenting each at the EdTech Team Google Summit in Las Vegas, an event that I will be presenting at for the fourth year in a row. I also applied for the San Gabriel Valley Google Summit in Duarte, CA on February 10-11, but I have yet to hear about that event. I want to apply to present at Fall CUE 2018, but my next goal may be a hindrance to that.
Unfortunately, at this time, I cannot go into great detail regarding my next goal. There are many factors that will play into that goal that, at this time, are relatively confidential. I may be able to speak about it as early as next week, but as a superstitious (to an extent) person, I don't want to jinx anything by saying something. What I can say is that if the pieces fall into place, it will be a significant change to what I am doing now and an advancement in my career.
Here's to what was hopefully a prosperous 2017 and to an even more prosperous and successful 2018! Until next time...