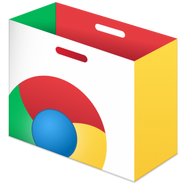 It is no secret that I am a huge fan of Google Apps for Edu... wait a minute! It is no longer GAFE, it is now GSuite for Education! Regardless, I am a complete fanboy of anything that is Google related. At this point, the way that I speak of Google, you would think that I was on their payroll (if you are reading this, Google, a small kickback would not be terrible!). In the past, I have written about some of my favorite Google Chrome apps, extensions, and add-ons. Because more are added all the time and more are discovered, I am revisiting this exciting topic again! The
Chrome Web Store
is a treasure chest of great tools; here are a few of my current favorites. Each tool is hyperlinked for easy access; just make sure that you are signed into your Chrome browser to add these great tools.
Print Friendly & PDF
: This Chrome extension allows users to make a web page more printer friendly. Often times, websites contain a lot of extras that you may not necessarily need if you are looking to print the page. News websites are a great example. If you wanted to print an article from a news site, it may take 5 pages of paper. With this extension, you can eliminate all of the extras. You can also edit the page to eliminate items that you may not want. That five-page printout can now be two, maybe even one, page. You can also save web pages, without the extras, as a .pdf file. I used to have two different extensions to cover these functions; now Print Friendly & PDF serves both purposes!
Chrome UA Spoofer
: Sometimes, you come across a website that does not work as well, or at all, in Google Chrome. The website may require you to view through Mozilla Firefox, Safari, or Internet Explorer. Before, you would need to open up the other browser to view the page. In the case of a Chromebook, your only option is Google Chrome, so you were not able to see the page on the Chromebook. I discovered this issue when trying to use MLB.TV on a Chromebook, which is not supported. This extension solves these issues! It "tricks" the website into thinking you are using a different browser when you are still in Google Chrome. It provides numerous browser options, as well as browser version options. It gives you the option to toggle a different browser on/off when yo visit a website, or you can create a permanent spoof list in the extension's options, defaulting to a specific browser when you visit a site without having to remember to toggle the spoofer on/off.
Black Menu for Google
: Websites under the Google umbrella always have the apps icon, or "the waffle" as many refer to is as. From there, you can access any Google product, such as Search, Calendar, Docs, Sheets, etc. While it may be a rarity (for me especially) to not be on some form of a Google site, you may want to access Google sites more quickly. This is where the extension Black Menu for Google comes into play. Essentially, "the waffle" is placed in the browser next to the omnibar (speaking of the ominbar, wait to read about the next one!). From any website, click on the extension and access the Google site that you need. From the extension, you can conduct a Google search, post to Google+, view your Blogger page, create a new Doc, create a new list in Keep, and so much more.
OmniDrive
: Have you ever needed to search for something in your Google Drive, only to have to open a new tab, open Drive, and search for your item? What a hassle, right? Save yourself the time by searching directly from the Chrome omnibar (ominbox, address bar, etc.). Once you install the extension, you simply type "drive", followed by a space, and the OmniDrive function will turn on. From there, conduct your search of a file or folder in your Drive and it will pull up options from which to choose.
SpeakIt!
: Coming directly from the description in the Chrome Web Store, "
Tired of reading? Select text you want to read and listen to it. SpeakIt converts text into speech so you no longer need to read." You simply highlight the text that you wish to be read, click on the extension or right click to select "SpeakIt!" and let the soft, soothing voice of the computer read the text for you. The best thing? You can select male or female voices reading in different dialects, accents, and languages. I personally like the British accents, but there are tons of options available.
My certificate I created using Autocrat
Autocrat: This Google Sheets add-on, available through the add-ons function when you open Google Sheets (add-ons are available in Google Docs and Forms as well), is an effective mail merge tool. However, rather than simply using spreadsheet data to send an email, you can also create form letters, certificates, and other great products by creating a template and merging data from a spreadsheet to the template. I created some great certificates of attendance to a training I hosted a while back for all attendees with a few clicks of the mouse and a bit of typing. Each attendee received an email with the certificate attached. I did have a bit of a time fully figuring out how to effectively use this add-on. I did break down and watch a rather lengthy video on YouTube that explained the ins and outs of the program. A giant thank you goes out to
Eric Curts on YouTube
for his video "
AutoCrat 3.0 for Merging Certificates
."
Speech Recognition: This add-on for Google Docs gives users the ability to speak their text, rather than typing it into the document. This is a great tool for younger students that are still learning to type or for older students that struggle with typing. I used this tool extensively with a student last year that was autistic and struggled mightily with typing and technology in general. She was able to speak her thoughts into the document and go back to add punctuation and clean up anything that the computer misheard.
I will periodically revisit Chrome apps, extensions, and add-ons as new ones are created and I give them a whirl. What are some of your favorites? I am always looking to learn more!
Until next time...
P. S.
You may have noticed that I changed the name of my blog to Anderson Ed Tech. I also changed the URL of it to
anderson-edtech.blogspot.com
. Please share this new address with your colleagues and PLN!