As the school year has come to a close or will be coming to a close, educators will have plenty of things to do to conclude their school year. While in the past, this may have consisted of cleaning out a classroom, but the COVID-19 pandemic has prevented many from doing a thorough cleaning of their room. And you may be interested in cleaning up your digital spaces as well, such as your email inbox, your cloud drive (Google Drive, Dropbox, OneDrive), and your learning management or content management system (Schoology, Microsoft Teams, Google Classroom). But while you need to clean, you may also be concerned about losing your materials because you are moving on from your school to another school, district, and/or state.
I fall into all of these categories. I did not have a choice in whether I was going to have to do a complete cleaning of my classroom, or in my case, my office. Since I was moving across the State of Nevada back to Las Vegas, I had to get my things out. So I arranged a morning when I knew that very few people would be on my school's campus, brought in some boxes, and cleared out everything. It was strange to not see anybody and not be able to bid farewell to my colleagues, but it was the cards that we were dealt due to the pandemic.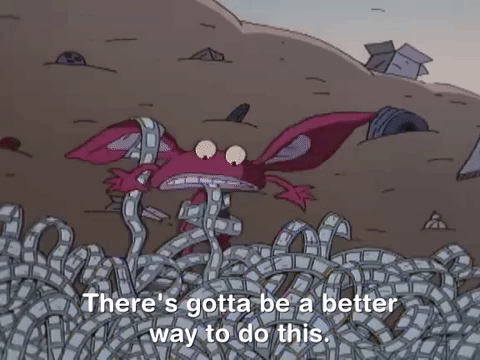 Image courtesy of
https://media.giphy.com/media/xT1Ra5UDyrlykT3gAM/giphy.gif
As I continued remote learning, I began to ponder what emails and files in my Google Drive were going to be needed once I lost my school account. When that would happen, I didn't know. So rather than wait, I decided that I needed to do something.
Years ago, I had a similar situation where I was going from one Google email account to another. My district promised that all of my files would be transferred, but I wanted to make sure that I had my stuff, just in case something went wrong with the transfer. I started to go through my materials and share each item individually to my personal email account, but it quickly became tedious. I also thought about making a copy of everything, dumping it into a folder, and sharing the folder or transferring ownership (which you cannot do unless the account is on the same domain), but ultimately, I thought to myself that there had to be a different method of transferring my information to my new account without the hassle that I was going through.
After a quick search, I discovered
Google Takeout
. Takeout is a way to back up your information from Google into .zip files that can be used to transfer from one Google account to another. This includes everything in your Google Drive, but you can also back up items from other Google apps, such as Blogger, Calendar, Classroom, YouTube (videos you've created and your lists), and much more!
So how do you take advantage of this amazing tool? First, head over to
takeout.google.com
. If you aren't logged into the account that you want to back up, be sure to log in or switch to the account that you want. By default, you can select every Google app to backup or you can select apps and with some apps, you can even select only certain items to back up (ex. leave out specific folders from your Google Drive). Once you have selected what you would like to back up, the next step is to select how you are going to get your data.
Message that you will receive once you have submitted
your request for an archive of your data
Takeout gives you some different options on how to receive your data. The default option is to receive a link by email with .zip files. Once you receive the email (it can take several hours, depending on how much data you are backing up), you can download the files, extract them, and add them to your drive or cloud product of choice. Be aware that you only have a week to download your files if you chose this option! If you'd rather not receive the email and .zip files, you can skip that step and have it added to your choice of Google Drive, Dropbox, OneDrive, or Box account. If you select Google Drive, keep in mind that it will send your archive to the same drive, you cannot select another Drive. You will be able to share it to another Drive for uploading once you get your archive.
Only need to back up your information the one time, such as when you are moving to another email account from your current one? Keep the default setting of one export. However, you also have the choice to export every two months for a year. And don't forget to select how large you want your .zip files to be. The default is 2 GB, so if you have a lot of data, you could receive many, many files and it doesn't always keep everything from one service or folder together; it may spread it out over multiple .zip files.
Once you have selected what you would like to back up, click on the Create Export button. You will receive an email that you made a request for your archive. Once the archive is completed, you will receive another notification via email. If you requested an email with files, your files will be included. If you chose to send it to a cloud drive, the notification will include a link to the location in that drive so you can download it.
If you are moving on to a new adventure, I wish you the best of luck and I hope that this will help you to keep the materials that you have worked on so hard for so long. If you are simply looking for a way to back up your data, just in case something happens, the same goes for you!
Until next time...